..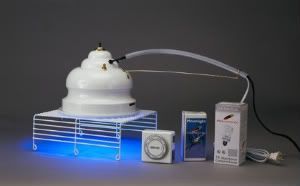 Full spectrum lighting by Feather Bright
From the Feather Bright websiteFull spectrum lighting has been shown to be beneficial to birds by mimicking a birds natural environment. Breeder aviaries, exotic bird collections and poultry production farms were some of the original places that full spectrum lighting was used and observed to demonstrate a definite positive effect.
One of the greatest benefits of full-spectrum lighting is the natural synthesis of Vitamin D precursors allowing the animal to naturally regulate calcium uptake. Another important benefit of full-spectrum lighting is the effect it has on the glandular system; the Thyroid Gland controls how and when the other glands function and for it to function properly, it needs to be stimulated by normal photoperiods of full-spectrum light.
The Hypothalamus is involved in proper feather development and skin. The Pineal Gland controls the cyclical processes such as molting and the reproductive cycle. Birds have four-color vision and the lower wavelength ultraviolet (UVA) adds the fourth visual perspective. Correct spectrum and photoperiod of light are also critical factors in normal preening as well as the skin and feather health of birds. If a birds system is not stimulated through adequate environmental lighting to maintain proper endocrine function, it may become lethargic and not continue normal preening behaviors.
A full-spectrum bulb with a CRI (color rendering index) of 90 or higher contains enough UVA to achieve this. It is middle ultraviolet light (UVB) that causes Vitamin D synthesis in the skin. Most professionals agree that the UVB needs to be somewhere between 290 and 310 nanometers in wavelength and a color temperature of 5000 Kelvin for this to occur.
*Glass windows filter out up to 90% of the beneficial UV spectrum unless that glass was made pre 1939. Aluminum screening used can filter out 30% or more UV light. High-grade acrylic (cages) filters out less than 5% of the UV light.
The FeatherBrite light can provide these important benefits. The FeatherBrite full-spectrum bulb is a compact spiral fluorescent, 15w, 5500k, 91cri. UVA 4%, UVB .05%. (UVB is between 290-310 nm in wavelength) It has a standard screw-in base and will burn approximately 8000 hours and is guaranteed for one year. This bulb cannot be used with dimmable controls. Recommended light time length is 2 to 8 hours per day and a timer can be used. Please consult your veterinarian regarding proper light time for your companion bird.
FeatherBrite is available in two shade designs, The Capitol and The Pagoda.
---
Lighting System This lighting system is designed for very large cages or larger areas where your pet birds are. This light includes two 20w full spectrum bulbs and the LED bulb moonlight bulb. 12′ gold chain with two 15′ electrical cords with switches. Hanging kit included. Timer included. Recommended hanging distance from cage is 2′. Colors available are white or sandstone. Light is 12″ wide and 10″ high. Heavy gauge .062 aluminum.Colors: White/Sandstone/Hammer Silver Tone
Pagoda Swag Light This is great way to provide your birds with healthy, full-spectrum light. Our swag light has a durable non-toxic powder coat finish. The chain is 12 ft. in length with off/on switch on cord. Shade is 8″ high and 10″ wide. A hanging kit is provided. Hanging distance from the cage should be no further than 30″ from the cage. A 20w full spectrum bulb is included. Recommended lighting times are 2 to 8 hours daily. Please consult with your veterinarian for proper lighting times. We also recommend using a timer. This light is available with white or gold chain. Colors: Black/White/Sandstone/Champagne
Universal Full Day/All Night System Two lights in one! The light has been designed with your bird's health and well being in mind. This light is two lights in one, one for day and one for night, altogether in one fixture. It includes our 15w full spectrum bulb which will provide many health benefits and it also includes our moonlight LED bulb which helps relieve the stress of night which some birds experience. We have also included a timer for the full spectrum bulb so that your pet bird gets the recommended amount of full spectrum light. The shade has two switches, one for the full spectrum bulb and one for the moonlight bulb. It also includes the safety wire extender to keep the electrical cord away from the cage and a durable, non-toxic powder coating is used on the unit.Colors: Black/White/Sandstone/Champagne/Hammer Silver tone
"Pagoda" Universal Light The "Pagoda" Universal light fits almost any cage size. The universal light includes a light guard which allows the unit to attach easily by simply sliding the eyelets between the cage bars. The eyelets may be used to hang toys, treats or whatever your bird enjoys. The shade is attached to the light guard by 3 wing nuts which allows you to change the bulb with ease. Durable non-toxic powder coat finish. Safety wire arm feature holds the electrical cord a safe distance from the cage. Light unit measures 10″ square and 10″ in height. 8 ft. electrical cord. A 15w full spectrum bulb is included. Recommended lighting times are between 2 to 8 hours daily. Please consult with your veterinarian for proper lighting times for your bird.*Colors: Black/White/Sandstone/Champagne/Hammer Silver tone

Our Capitol model swag light incorporates full spectrum lighting along with soothing moonlight for birds that experience night fright.

Included are:

FeatherBrite 20w full spectrum bulb.

Blue LED moonlight bulb.

12 foot chain. 15 foot. electrical cord with off/on switch.

Hanging kit and timer are included.

Bird safe non-toxic powder coat is used and the shades are aluminum.

Light is 8 inches by 8 inches.

 15 watt compact spiral fluorescent bulb, 5500k, 91cri, UVA 4%, UVB.05%. Guaranteed 8000 hours/one year. Standard socket base. Our bulb provides health enhancing full spectrum light required for birds without the head of incandescent bulbs. Full spectrum light has been shown to be beneficial by mimicking a bird's natural environment. Major health benefits full spectrum light will provide are: strengthens the immune system, relieves psychological distress and aids in Vitamin D synthesis. Your pet bird will love this!

20 Watt-

Moonlight The Moonlight bulb helps relieve the stress of night for those birds who experience "night fright". The bulb has 3 blue LED bulbs encased in a frosted white globe. It has a candelabra base and we have included an adapter that can be used with a standard socket. The bulb gives off a soft blue light that is very calming. Operates using only .06 watts of electricity.